A Deeper Collaboration for a Better Tomorrow
The 7th China Rainbow Awards in Shanghai
The 7th China Rainbow Awards was held in Shanghai on January 27, 2018. The awards were initiated by 11 NGOs from all over China, led by event organizer Beijing Gender Health Education Institute. The Rainbow Awards are the first LGBTI-focused forum for evaluating and recognizing media in China. The awards aim to foster objective and in-depth reporting on sexual and gender minorities by Chinese media outlets and journalists, with the goal of nurturing a tolerant, diverse, and fair media environment for the LGBTI community.
This year's awards were co-organized by ShanghaiPRIDE, with the support of the United Nations Development Programme (UNDP).
Awards in Five Categories Selected by Review Panel and Community Vote
Around 200 people from media organizations and the community attended the annual awards ceremony at Andaz Xintiandi, Shanghai. Representing the event organizer, Wei Jiangang, Executive Manager of Beijing Gender Health Education Institute, gave a speech calling for deeper communication and collaboration between the media and the community.
Wei Jiangang, Executive Manager of Beijing Gender Health Education Institute
Onny Jalink, Deputy Consul-General of the Consulate General of the Kingdom of the Netherlands in Shanghai
Lesley, ShanghaiPRIDE volunteer representative
Cheng Qingsong, representative of judges
Speeches were also delivered by Onny Jalink, Deputy Consul-General of the Consulate General of the Kingdom of the Netherlands in Shanghai, representing the programme sponsor; Lesley of ShanghaiPRIDE volunteer representative; and Cheng Qingsong, a film director, writer, and critic, representing the review panel. The speakers pointed out that raising visibility of gender diversity depends heavily on collaboration between media and voices from the community.
Nominees from almost 100 print, online, and video media outlets covering law, policy, culture & entertainment, society, and science fields in 2017 were selected based on media monitoring research.
The Chinese judges on the review panel for this year's China Rainbow Awards are professionals from academia, media, civil society, and cultural industries. Cheng Qingsong and Cui Zi'en from the film industry; Jiang Xin, CNN correspondent in China; and Professor Zhang Zhi'an from the School of Communication and Design of Sun Yat-sen University have participated in and supported the panel from the beginning. The panel has since expanded to include perspectives from civil society and media, with veteran investigative reporter Nan Xianghong and Feng Yuan from Equality adding to the diversity of the jury. This year's China Rainbow Awards even went international, with Yang Zhen, Programme Officer of the UNDP's "Being LGBT in Asia" initiative, helping to evaluate non-Chinese-language entries.
The winners of the 7th China Rainbow Awards are:
Best Story (Newspaper or Magazine): "Behind Convenience Marriages: Rejection and Acceptance by Mothers of Homosexuals" by Jinan Times
Best Story (Online Media): "My Mother Is Gay" by Beijing News New Media
Best Story (Video): "In the Name of Love" by CGTN New Media
(This is the first China Rainbow Award for CCTV.)
Best Story (English-Language Media): "When You Are Old, Chinese, and Gay" by Sixth Tone
(This is the first China Rainbow Award for Sixth Tone. Two other Sixth Tone stories — covering online broadcasting guidelines and mothers of gays and lesbians at Shanghai's wedding market — ranked within the top 10 by votes.)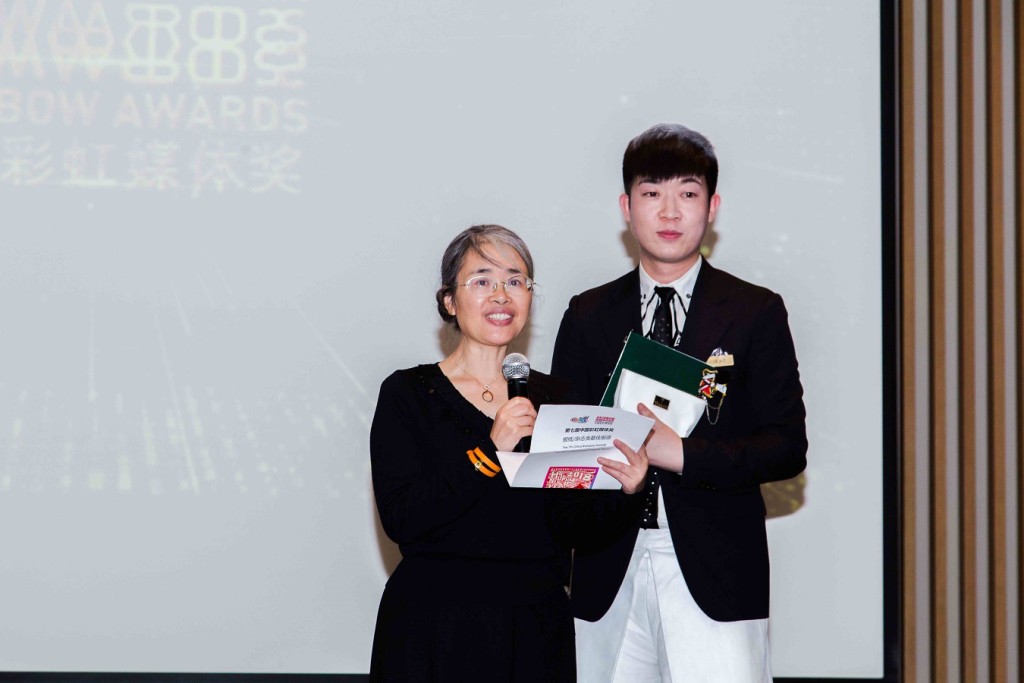 Feng Yuan, Founder of Equality and Han Xiaosong, China's leading skincare expert from Valmont of Switzerland presented the award for Best Story from Newspaper or Magazine.
A Qiang, Executive Director of PFLAG, Raymond, Co-Founder of ShanghaiPRIDE and awarded journalist Zhou Xiaoqi, who is an intern journalist and a senior sociology student.
Chen Qingsong, famous director, screenwriter, and critic, along with Professor Shen Yifei, from the Faculty of Social Development and Public Policy of Fudan University presented the award for the Best Story from Video category.
Maurits Oskam, Second Secretary of the Embassy of the Kingdom of the Netherlands in China, and Du Cong, Executive Director from the Hong Kong Chi Heng Foundation with Six Tone journalist Qian Jinghua who accepted the award on behalf of Fan Yiying.
All of these stories show that LGBTI people experience the same emotions of love, joy, and sorrow as their non-LGBTI peers. As the LGBTI community bravely tells their stories, they are also writing their own history.
While winners of the above awards were selected by the review panel, the winner of the LGBTI Story of the Year award was decided by online voting, with record-high voting rates this year. "How Did Taiwan Become the First Place to Legalize Same-Sex Marriage in Asia?" by NetEase News received the most votes out of 10,000.
Professor Weiwei, East China Normal University and Yang Zhen, Programme Officer of the UNDP "Being LGBT in Asia" presented the award for Story of the Year to NetEase News.
The winning journalists and editors accepted their awards and gave speeches expressing their support for the LGBTI community and pledging to produce more LGBTI-related stories going forward.
Remarks by Person of the Year Award Winner Wu Youjian Expressed Support and Hope for a Better Future for the LGBTI Community
The 7th China Rainbow Awards – Person of the Year is Wu Youjian, a pioneering ally and advocate among parents of LGBTI children. Affectionately referred to as "Mother Wu," Wu is also the first nominee from the community to receive this award.
Fourteen years ago, Wu and her son shared their stories in a TV interview. Her blog and Weibo account have reached more than 5 million views. The review panel were impressed with Wu's unique contributions to the LGBTI community as a mother within the family-oriented Chinese society. She has not only influenced a generation of LGBTI youth to accept themselves, but has also helped many families. The award is perhaps the best gift for her 71st birthday. Feeling moved onstage, Wu shared her views on living a free and independent life.
Geng Le, Blued CEO presented The 7th China Rainbow Awards – Person of the Year award to Wu Youjian
Fewer, But Better: Trends in LGBTI Media Coverage in 2017
This year's awards ceremony also included a presentation of 2017 media trends by Li Zishu, media researcher for the China Rainbow Awards. Compared with 2016, there was a significant drop in the number of LGBTI-related stories, from 710 to 447. Most of these stories came from international outlets and online media.
Despite the decrease, the data shows some favorable trends. Firstly, topics are becoming more diverse and inclusive. Secondly, there has been significant progress in coverage of LGBTI and HIV, with fewer stories simply linking the community and the disease. Research shows that these biases were present in only 8% of stories from 2017.
In addition, media have developed greater awareness of LGBTI-related topics, which helps produce more objective reporting. Most events that had a positive impact on the LGBTI community were presented and evaluated fairly. The community was depicted in an objective and balanced way. In cases of discrimination against sexual minority groups, media often showed support by raising awareness with their coverage of these issues. Although there was a drop in LGBTI-related stories overall, basic knowledge of LGBTI issues and themes of tolerance and acceptance were widely covered in mass media. These trends suggest that the work done by LGBTI organizations in the past few years has already begun to take effect.
The LGBTI community must keep exploring ways to collaborate with media. We must actively exchange ideas with media to expand the scope of LGBTI-related stories. By evaluating media coverage, holding sex and gender-related reporting workshops, and hosting the annual China Rainbow Awards ceremony, we are deepening the communication and understanding between media and the community.
In the face of ongoing challenges, the 7th China Rainbow Awards continues to give sexual and gender minorities a platform to raise their voices. The event organizers from Beijing Gender Health Education Institute would like to thank this year's programme sponsor, co-organizer, Andaz Xintiandi, Shanghai, and other supporters including sponsor Valmont for helping put together such an incredible ceremony. Shanghai Hyperbolic Singers also performed during the ceremony.
Shanghai Hyperbolic Singers
Andaz Xintiandi, Shanghai raffle prize winners
The annual China Rainbow Awards represents the efforts and aspirations of the LGBTI community to raise visibility in media; the event also showcases the increasing objectivity, fairness, and professionalism of media outlets' coverage of the community. Both of these purposes have far-reaching implications for both media and the LGBTI community in China.
Media Contact: lizishu@bghei.org
Phone: 13011830594