Event Recap: Red Ribbon Gala Dinner
SHANGHAI – This year's Red Ribbon Gala Dinner hosted by ShanghaiPRIDE, Q-Events, and Andaz Xintiandi, Shanghai on World AIDS Day raised a total of CNY 82,580 for Shanghai Qingai Health Center.
The beneficiary is a charity organization established by young adults to serve the youth community. HIV infection is on the rise among college students; Shanghai Qingai Health Center educates youth groups to protect themselves from sexually transmitted infections and diseases (STIs/STDs), including HIV/AIDS, and helps those living with HIV improve their quality of life. Funds raised will support HIV prevention projects on school campuses and public anti-discrimination events.
Over 190 esteemed guests attended the charity gala to show their support. A beautifully choreographed dance about both the seriousness of HIV/AIDS and hope for the future opened the evening, followed by a video presentation from Shanghai Qingai Health Center. A delicious four-course dinner was accompanied by speeches, magic and live band performances, and exciting raffle prize drawings. Live-streaming and on-site caricature artists made sure the evening was well-recorded on video and paper.
In her welcome speech, gala organizer Charlene Liu stressed that: "With medical advancement, someone living with HIV — with proper medication — can have a normal life, but prevention is always better than cure. It is always better to educate the younger generation about prevention. That is why we support Qingai: They provide peer-to-peer education and counseling."
The center's campus program recruits students to perform on-site testing. Volunteer Gui Hang, a law major, said, "I hope through everyone's participation, the on-campus testing project can help more people, and that our efforts can defeat AIDS."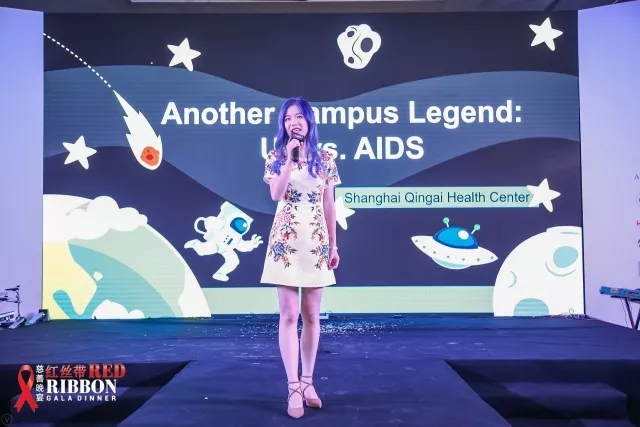 The charity gala dinner was sponsored by TrueBaby and Time Out Shanghai, and supported by Stoli Vodka, Il Vino wines, Earth Water, City Weekend, and That's Shanghai. More than 30 hotel, food & beverage, beauty & fitness, and lifestyle businesses donated raffle prizes. Table buyers included Bayer, Craig & Steve, Frances & Friends, Colca, the clinic, Angle Communications, Advanced Medical Center Shanghai, Shanghai Disney Resort, Lucca390, Larys & Friends, Kelvin, Mark & Friends, and Lifeline Shanghai.
ShanghaiPRIDE co-founder Raymond Phang ran the raffle. The first round of raffle prizes were drawn by Zhang Jianpu, director of Shanghai Qingai, and Lim Li, CEO of TrueBaby. The second batch of prizes were drawn by Lin Tao, co-founder of Q-Events, and Evie Wu, organizer of ShanghaiPRIDE. Grand prizes from Andaz Xintiandi, Shanghai; Andaz Singapore; and Andaz Tokyo Toranomon Hills were drawn by chef Lucian Sun and Robert Hamer, general manager of Andaz Xintiandi, Shanghai. A silent auction followed by a live auction of celebrity-autographed photos and other items ran throughout the evening.
All guests were presented with gift bags as tokens of appreciation for their generosity. Organizers hope that individuals, businesses, communities, media, and government will continue to support increased visibility and awareness of HIV/AIDS prevention.
---