6th ShanghaiPRIDE – The Best Yet
27th June 2014 – Shanghai, China ShanghaiPRIDE has successfully wrapped up its sixth annual celebration of the international LGBT Pride Month. Abundant in networking, cultural and entertaining events, this was an amazing week that gathered an impressive 5000+ of supporters celebrating diversity and tolerance and sending out the powerful message of being – Better Together. Warming up pre-Pride event at 390Shanghai was a night of sharing the real life stories about awkwardness. June 12th and 13th marked the openings of the Photo and Art Exhibition "Love & Health". Numerous visitors to Shanghai Studio and Polar Bear Gallery could enjoy stylistically diverse artistic explorations of the interplay between these two concepts as well as raise their awareness about the specific meanings attached to love and health in relation to LGBT community. Saturday June 14th was an eventful day for all the jolly Pride-goers. Traditional morning coming out for the 6 km long Pride Run, which started from The Langham, Xintiandi to The Bund and back, and was rewarded with the delicious Pink BBQ at The Langham. American Apparel and Helan Online joined forces for the event as well. The day culminated with the mega Opening Party on Saturday evening featuring amazing performance by Peter Le, a prestigious GV star, and dancers at M2. Despite the difficulties with the venue, for which the organizers deeply apologized, the atmosphere was great and it was the night to remember for more than 2000 supporters. Sunday June 15th saw a productive Panel Discussion on transgender health, rights and community building hosted by the US Consulate-General. The LGBT Groups Open Day on June 21st, co-organized by Shanghai Community Center, dedicated to networking and facilitating future local LGBT-related projects. It was complemented with HIV/AIDS Panel Discussion "Love & Beyond" and PFLAG Conference "Embrace Your Children" in Andaz Hotel, supported by Helan Online, which gave support to a dialogue between LGBT community members and their non-LGBT family members and sharing feelings and experiences on coming-out stories. All the events had great turnout, being informative, emotional, powerful and promising. More than 600 participants joined the events supported by the British Consulate-General since 10 AM. The Pride6 Film Festival opened on June 15th at The British Centre with the screening of Top 3 Chinese films voted online, among which were "Brother" (release year 2013) and "VaChina Monologues" (2013). What followed was a real feast for a huge amount of film-lovers which attended the screenings sponsored by and held at the German, British, Canadian, Luxembourg and Danish Consulate-Generals throughout the week. Created in China, Germany, Denmark, UK, USA and Canada, this great collection of movies showcased context – specific and yet universal struggle for authentic life and love beyond rigid confines of heterosexuality. The Identity Theater Series gathered an amazing crowd, both on stage and in the audience. Following Mike Bartlett's "Cock" performed by East and West Theatre on June 6th and 7th, Pride6 presented two original plays – "Izzie and Irving" written by Sanyi on June 15th and "Rendezvous", a tragicomedy written by Jason and Svetlana Lasky, on June 15th and 20th. Dedicated to transgender community but touching our collective human experience, the play was followed by interactive sessions between the director, actors, audience and the Pride's exquisite guests – Sisters of Perpetual Indulgence. The plays, which were supported by the Dutch Consulate-General, were well celebrated by more than 450 audiences. Sister Roma of the Sisters hosted LGBT Trivia Night on June 18th at 390Shanghai, with loads of exciting prizes given out to knowledgeable and lucky participants. Ladies Pride at Cirque Le Soir on June 19th provided exquisite treatment to all wonderful ladies who came out in all rainbow colors. The night was filled with positive vibes, hot Camino Flamenco performers, great entertainment and unforgettable encounters. Closing Party on Saturday 21st, although unexpectedly changed venue to Pasul, changed main DJ and rain, it was a huge success. Media partners and organizers worked tireless around the clock to divert the crowd to the new venue. Estimated 800 participants had amazing time celebrating the successful wrapping up of Pride6, entertained by Pride Beats, DJ Kuma Ray, versatile Jazz singer Denise, dancers Vboiz, Benson and KK from Taiwan, Drag Queen Foxxy Femm and NoFactCreative Group. A midnight flashmob made the night a sweet one to remember. Artwork sales from the Art Exhibition were donated to Beijing Zuoyou, an organization focusing on HIV/AIDS awareness and prevention and care for the infected; proceeds from Pride Run went to Chengdu Tongle, an LGBT organization in Sichuan province and sales of raffle tickets help to support LesTalk, a local Lesbian media and events organization. Congratulations to all for being part of ShanghaiPRIDE and to organizers and volunteers who made this great event come true, and another step for promoting tolerance and acceptance among the society.
For a full list of activities see shpride.com/pride6events.
For interviews, email shanghaipride@gmail.com. Shanghai time is GMT +8 hours.
Huffinton Canada | Wall Street Journal | Seasons of Pride
Yahoo | eChinacities | RFI 1 | RFI 2
SmartShanghai | City Weekend 1 | City Weekend 2
That's Magazine | Enjoy Shanghai 1(Ivalid) | Enjoy Shanghai 2 
Shanghaiist | BLUED | TONTOU | 电音中国 | 中舞网
Radio France Youth Radio
France 24 | Gay Star News | ColognePride
>>>>>>>>>>>>>>>>>>>>>>>>>>>>>>>>>>>>>>>>>>>>>>>>>>>>>>>
American Apparel – LESBIAN, GAY, BI-SEXUAL, AND TRANSGENDER (LGBT) WINDOWS
19th June 2014 – Shanghai, China From June 9th to mid-July, American Apparel will be showing our support to the Lesbian, Gay, Bi-Sexual and Transgender (LGBT) community with exclusive pan-Asian window displays. China will be displaying their windows from June 13 to 30 only. The pro LGBT displays will be featured in China's Sanlitun and Joy City mall stores, Japan's Shibuya Women's Store, and in Korea's Myungdong and Hongdae stores. The windows will be centered around two key visual LGBT symbols– the pink triangle and a rainbow color scheme. Additionally, each country will add a local twist to the featured displays: China will be highlighting pro-LGBT tees and tanks. China is also officially sponsoring Shanghai Pride (from June 13 to 21) and participating in the Pride Run on June 14. In Japan, exclusive T-Shirts will be made for the Tokyo Lesbian & Gay Film Festival (from July 12 to July 21) while Korea will be sponsoring the Queer film festival and offering a promotion coupon to festival goers. American Apparel believes that sexuality should be celebrated, not condemned. We believe in freedom, expression and equality. With many of our employees and customers identifying as gay, lesbian, bisexual or transgendered, we are a company that is vocal about our support for the protection of LGBT rights.
For more information please contact:
Olivia Mok
Marketing Manager
+86 186 1675 4125
oliviamok@americanapparel.net
Karen Liu
Marketing Assistant
+86 139 1623 6686
karenliu@americanapparel.net
Follow Us! Instagram @AAChina Weibo /AmericanApparel
>>>>>>>>>>>>>>>>>>>>>>>>>>>>>>>>>>>>>>>>>>>>>>>>>>>>>>>
ShanghaiPRIDE2014 IDENTITY series Review
17th June 2014 – Shanghai, China This year ShanghaiPRIDE theater focuses on the topic of IDENTITY. Identity is such a basic and ubiquitous human concept that we often take it for granted. When the truth you feel about your personal identity matches the truth other people assume about you, it creates harmony in life that most of us fail to appreciate. However, when you hide from your lover your birth gender, when your partner suspects you are attracted to someone of the same or different sex, when you don't like who you are, when you can't answer for yourself the question "Who am I?" You must either live in perpetual turmoil or undertake the difficult quest of aligning your self-identity with your public identity. We explore three facets of this struggle through three plays in our IDENTITY series. When a gay man suddenly loves a woman, when a wife discovers her husband is gay, when a person's appearance is not true to who the person really is, then, who are they? And you… have you "identified" yourself yet? COCK It is a story about a gay man who suddenly falls for a woman. He struggles with his love for this woman and his love for his boyfriend. Between the pressures placed upon him in society and his sexual identity, his involvement in this triangle leaves him confused of his sense of self.
I love you, but suddenly love her.
We lived together for a long time, so he should be with me. I would like to live with him. We'll be much happier. Who am I? Is this important?
Special thanks to East West Theatre for their continuous support of ShanghaiPRIDE 2014! Izzie&Irving It was 80's in Shanghai. Izzie and Irving met each other, fell in love and had a happy marriage. Until Irving met Izzet, and it tears everything apart. "Izzie/Izzet, your hands are so soft" this farewell was once so comforting but now has become a painful insult. The play has a remarkable ending, but the story is not over yet. We hope that our fellow LGBT community will contribute to how this story should end.
Izzie met Irving by chance with A-Hua, and they fell in love.
Irving and Izzet fell in love at first sight. "Izzet, your hands are so soft."
A-Hua likes Irving but she couldn't get what she wanted. So she gossiped as an attack.
When Izzie found what Irving and Izzet was doing, everything was over.
Thanks to This Love Drama Club for their fantastic performance which triggered thoughts about IDENTITY. See you next year! Rendezvous Tonight at SDU, Rendezvous shared transgender community story to us.
Christie Koletto's marriage to Julian has hit a major roadblock thanks to her inability to satisfy his desire to expand the family.
Sylvester, a charming stranger going through a major transition, enters Christie's world hoping to be her man.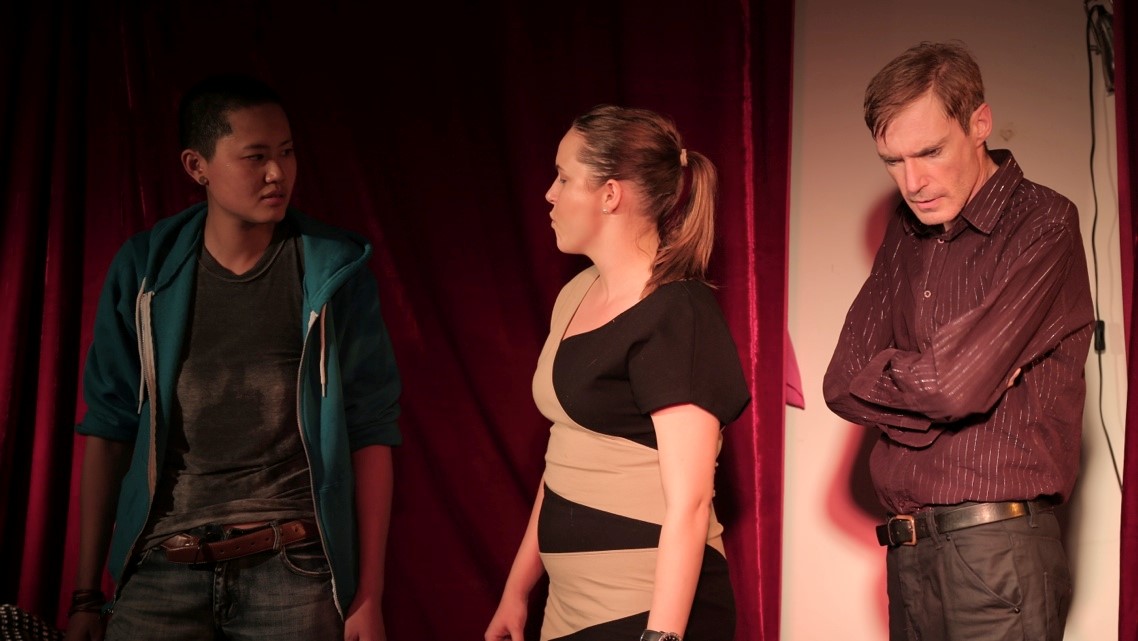 A twist of fate will bring all three people together, calling into question their sense of identity, and their lives will never be the same again. Rendezvous will have another performance next Friday. If you would like to know how Christie, Julian and Sylvester settle their relationships, please join us and RSVP via shanghaipride@gmail.com.
>>>>>>>>>>>>>>>>>>>>>>>>>>>>>>>>>>>>>>>>>>>>>>>>>>>>>>>
Rainbows to Shine on 6th ShanghaiPRIDE
4th June 2014 – Shanghai, China The Shanghai-based LGBT community's biggest annual celebration, Pride6, is almost here. Running 13th-22nd June, this year's festival takes the theme "Better Together" which unites the six colors of the rainbow for worldwide LGBT movements. "We've had a few 'pre-pride' activities already like fundraising parties and TEDxWenhuRd, but it's nearly time to put our happy shoes on for the main event," organizer Charlene Liu said. On 12th and 13th June are the openings of a photo and art exhibition called 'Love & Health' and artists give their interpretations of how these concepts interconnect. The joint exhibition is organized by Beijing Positive Art Workshop (PAW) and LA LGBT Center and complemented with art works by Patric Purnell and Dr. Sketchy's Anti-Art School. The event is sponsored by the Dutch Consulate-General, Shanghai Studio, and 390 Shanghai. Other highlights include the Pride Run, Pink BBQ and opening party on 14 June. Pride Run is sponsored by The Langham, Xintiandi, with free barbecue for the runners while non-runners are also welcomed. Run t-shirts are sponsored by American Apparel and bags by Helan Online. Drinks are sponsored by the Pride's partner Yolo. The opening party, Pride's biggest bash will be held at one of Shanghai's most established venue, M2. "This year's film festival starts 15th June, and there are also panel discussions, theater performances, ladies' party, and a trivia night," fellow organizer Raymond Phang said. "These activities are our community's ways of explaining ourselves to each other and the wider community, and celebrating our strength through our diversity." The film festival is co-organized by Tontou and sponsored by the British, German, Danish and Luxembourg Consulates-General, Shanghai. Panel discussions on transgender health, rights and community building are sponsored and hosted by the US Consulate-General. The LGBT Groups Open Day, dedicated to networking and facilitating future LGBT-related projects, is sponsored by the British Consulate and Andaz Hotel. Both of them are empowering the HIV/AIDS Panel Discussion and PFLAG Conference which are on the same day. The Identity Theater Series will present Mike Bartlett's performed by East and West Theatre, written by Sanyi and produced by This Love, and written by Jason Lasky and produced by Shanghai Nvai and Meredith Yarbourgh. The "Hot and Colorful" ladies' party is sponsored and hosted by Cirque Le Soir. Pride's closing party will be held at Sigma Film Club and sponsored by Shanghai Tattoo, Taittinger, Stoli and Bacardi Breezer. China LGBT media The L. LesDo, Danlan, Zank, Donut etc. will be promoting all events through their social network platform. A VIP Card will provide free access to the opening and closing parties, theater plays, one week's free gym session and one session with a personal trainer at Mr.& Mrs. Fitness, plus two free drinks at D9. "ShanghaiPRIDE has attracted more than 100 local as well as other Asian partners and sponsors," sponsorship manager Septira Taruna said, "Raffle prizes are sponsored by around 50 local businesses and restaurants. " "The outcome will be huge. Lot more friends will come to support the event which will promote ShanghaiPRIDE among the international community," Septira said. A unique characteristic of ShanghaiPRIDE week, when compared to other international celebrations, is its broad and comprehensive perspective and activities which cover all aspects of LGBT life, Septira added. "There are artistic, educational and community-building activities – it's not only about partying." Charlene Liu said Pride has gathered many volunteers so far who have all learned a lot, and certainly will not stop planning future activities. "Pride cannot happen without our many volunteers and dozens of sponsors and consulates-general," she said. "We thank you and love you." Women's site LesTalk, the HIV/AIDS awareness and health care group Zuoyou, and Chengdu Tongle health counseling service are the beneficiaries of Pride6. More community events will sprout from this annual event and organizers are looking forward to getting more local and international sponsors for other major LGBT-related projects in the future, as well as ShanghaiPRIDE 2015.
For a full list of activities see shpride.com/pride6events.
For interviews, email shanghaipride@gmail.com. Shanghai time is GMT +8 hours.
>>>>>>>>>>>>>>>>>>>>>>>>>>>>>>>>>>>>>>>>>>>>>>>>>>>>>>>
Better Together
Six weeks until 6th ShanghaiPRIDE starts
Shanghai, 1st May, 2014 – There's just over six weeks until the opening of the Shanghai-based LGBT community's biggest annual celebration – the 6th ShanghaiPRIDE. From 13-22 June, mainland China's most international city will host a range of activities under the theme "Better Together". "After five great years of development, we are really proud and appreciate the LGBT community and its allies coming out as one," organizer Raymond Phang said. "For our 6th ShanghaiPRIDE, we're using the six colours of the rainbow for worldwide LGBT movements to showcase the significance of becoming 'better together'". Fellow organizer Charlene Liu said she and her colleagues are busy finalizing an eclectic mix of events such as the opening party, film festival and theatre plays. "We've also got an art exhibition, panel discussions, and trivia night which seek to celebrate our community's diversity, strengthen us and spread the universal messages of acceptance and equal love," Liu said. Proceeds from this year's PRIDE will be shared among site Lestalk, HIV/AIDS awareness and health care group Zuoyou, and the Chengdu Tongle health counseling service. "Events such as the art exhibition, film festival and theatre plays showcase Chinese and international works, while our organizers and volunteers are also from many places around China and beyond," organizer Phang said. "Although we're from different places, many of our experiences are similar, so we'll be sharing these through panels and cultural events, exploring subjects like transgender community-related topics, health, marriage and family acceptance." "We can't wait to get Shanghai's PRIDE week started and share the love and fun," Liu added.
For a full list of activities see www.shpride.com.
For interviews, email shanghaipride@gmail.com. Shanghai time is GMT +8 hours.
>>>>>>>>>>>>>>>>>>>>>>>>>>>>>>>>>>>>>>>>>>>>>>>>>>>>>>>
Shanghai Celebrates its 6th Pride in June
Shanghai, 8th April, 2014 – ShanghaiPRIDE will proudly celebrate its sixth anniversary this year. Building on its traditional agenda of promoting tolerance and celebrating diversity, this year's festivities will be organized under the slogan "Better Together". The overarching theme of togetherness which will inspire and help shape various events reflects the aspirations of the Shanghai-based LGBT community to strengthen its position in terms of equal rights, acceptance, self-affirmation, and community-building within both the local and the global contexts, outreaching to other Prides around the world and joining the international LGBT Pride Month celebrations. A colorful myriad of networking, social and entertaining, as well as cultural and educational events will be held before and culminate during the Pride Week from 13th to 22nd June 2014. Awareness and concerns about the universal as well as context specific issues surrounding LGBT community such as marriage equality, sexual health, and workplace diversity and acceptance have already been raised in the debates ShanghaiPRIDE held throughout the previous years. With the aim to reach out to wider public and policy makers, these talks will further develop in three Panel Discussions planned on 15th and 21st June this year, with special focus given to themes of religious and family acceptance and expected participation of transgender-related organizations. NGO Workshops are planned for 22nd June with 25 organizations joining in, brainstorming around the theme of coming out and specific cultural and social challenges and opportunities for changing the stigma into visibility, positive stance, and pride about LGBT identity. ShanghaiPRIDE 2014 Film Festival will be held from 15th until 20th June. Seeking to "establish a public platform for discourses on local LGBT social issues, promote the evolvement of local LGBT culture, and raise public awareness and support for local LGBT communities", the festival will encompass a series of events such as interactive discussions, film screenings, and Chinese LGBT-themed short film competition. The call for submission will be open throughout April, the films will be out one month for online voting and the awards will be given out at the Closing Party. Five short listed films will be shown on the Film Festival Opening night. This year's theater series will revolve around the theme of identity. Following East West Theatre's pre-Pride production "Cock", theater plays "Rendezvous" and "Gay Husband, Straight Wife", a Chinese play by This Love Drama Club, will be on stage on the 15th, 20th and 22nd June. As Evie Wu says, "Pride6 has attracted involvement of many LGBT-related theaters. ShanghaiPRIDE is always a multi-national event, that's why we would like to present both local and international plays for our audience. This year we will have an IDENTITY series, with performances exploring the topic of transgender, gay, and straight identities. All these theater plays together will present and make Pride6 more diverse and inclusive. Better together – Let's celebrate togetherness". The Art Exhibition opening is scheduled for Friday 13th June. There will be three sets of art displayed at M50: Beijing Zuoyou with LA LGBT center and PAW, Patric Purnell, and Jason and Lulu animation. Dr.Sketchyn sketches will be displayed at Shanghai Studio. As part of the traditional outdoor get-together and sports element of the festival, the Pride Run leading to the Pink Picnic is scheduled for Saturday 14th June. Along with other local running groups, organizers will invite the consulates, corporations, and NGOs. Some of the confirmed sponsors are American Apparel, Epermarket and RNW and part of donations will go to an HIV-related charity.  Story about a journey from darkness to brightness and colors will be the main theme of the Opening and Closing Parties to be held on 14th and 21st June respectively. The ladies-only Girlz Night Out Party is scheduled for Thursday 19th June, with a Flamenco Troupe and Drag King to perform, along with Six Shanghai Rollers in six different outfits serving shots of six different colors. Raymond Phang, one of the main organizers, says: "It has been really amazing to see how ShanghaiPRIDE has grown, and it is always emotional to be part of it. Every year, a group of passionate volunteers comes together for one only reason – to create awareness and promote tolerance for the LGBT community in Shanghai and China. It is also exciting to involve more of the local community year after year to make ShanghaiPRIDE one of the most unique Prides in the world. We are blessed with great partners and friends who have continuously supported us for the past five years and inspired a very promising future for all of us". As this annual event is non-for-profit in its character, carried out by volunteers and members of ShanghaiLGBT and other NGOs, the organizers have already started arranging fund-raising events, finding sponsors and soliciting donations. Some of the prominent 2014 ShanghaiPRIDE benefit parties are Coming Out Masquerade Black Ball scheduled for 12th April at 390 Bar and BBQ Block Party which will take place at Brownstone on 25th May. East West Theatre production "Cock" is expected be on stage on 6th and 7th June. Proceeds from these events will go to organizing of the week-long festival.
Contact: Smiljana Tanasijevic
Email: shanghaipride@gmail.com
Website: shpride.com