Red Ribbon Gala Dinner Calls for Support
SHANGHAI – ShanghaiPRIDE, Q-Events and Andaz Xintiandi, Shanghai held a press conference last Friday to officially launch the 2017 Red Ribbon Gala Dinner campaign, which will benefit Shanghai Qingai Health Center.
In conjunction with World AIDS Day on Friday 1-December, the campaign aims to raise public awareness on HIV/AIDS prevention and treatment, and promote anti-discrimination and de-stigmatization towards those affected. There will be a cocktail reception, four-course dinner, performances, raffles draw, and silent auction. Individual tickets are priced at ¥1080 and a table of ten at ¥9,800. Tickets are open for sale and organizers would like to invite businesses, individuals, and media partners to unite for this cause.
The Gala will be held at the Ballroom of Andaz Xintiandi, Shanghai. "We are thrilled and appreciative to host this event for the second year," said Robert Hamer, General Manager of Andaz Xintiandi, Shanghai. "Remember this is a very worthy cause to support prevention and awareness."
HIV/AIDS has become the second highest leading cause of death among adolescents globally. According to World Health Organization (WHO), an average of 6000 people are infected with HIV everyday worldwide, and China ranks 12th in the world with the number of people living with HIV. Data from Shanghai Qingai shows that 19 of the 52 HIV positive samples are from young adults aged between 20 to 25 years old and the youngest two are only 18 years old. Limited and lack of access to proper information adds to the challenge in HIV/AIDS prevention. There is an urgent need to not only raise awareness on prevention of HIV/AIDS among the younger generation, but also to inform them on what to do, how to get treatment, and where to receive counseling should they be infected.
Shanghai Qingai Health Center is a charity organization that has official government qualification and is established by young adults to serve the youth community in Shanghai. With the funds raised last year, they recruited student volunteers from 23 colleges covering 31 campuses. These volunteers were trained by Shanghai CDC to perform HIV saliva tests and provide HIV/AIDS related consultation on campus. They will continue various activities to raise awareness among student groups.
Co-Founder of ShanghaiPRIDE, Charlene Liu, believes that education of the youths is important in the prevention of HIV/AIDS, "Prevention is always better than cure. How better to prevent than through education for our youths of today. We have to, as they say, nip the problem in the bud. That is why we want to support Shanghai Qingai."
Bookings and enquiries about sponsorship can be made through Lin Tao of Q-Event at qevents@163.com.
Co-Founder of Q-Events, Lin Tao
Co-Founder of ShanghaiPRIDE, Charlene Liu
General Manager of Andaz Xintiandi, Shanghai, Robert Hamer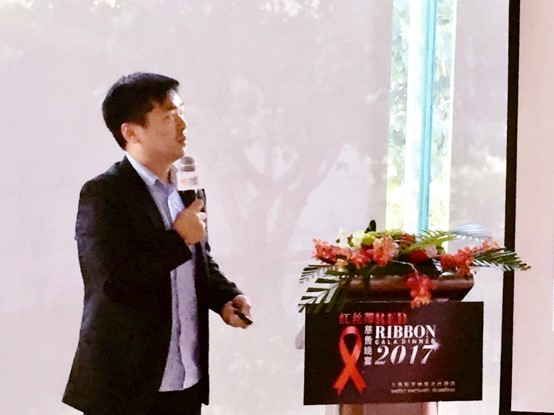 Project Supervisor of Shanghai Qingai Health Center, Zhang Jianpu
The organizing team of Red Ribbon Gala Dinner
---
Invitation to Red Ribbon Gala Dinner 2017